Plus One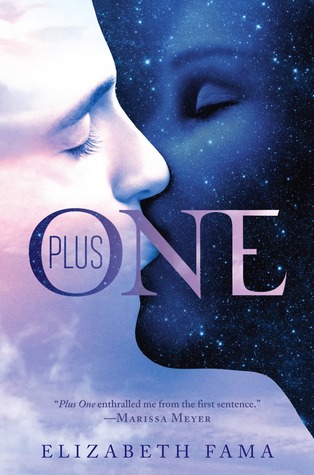 Title : Plus One
Author : Elizabeth Fama
Rating : 4 Stars!!!

Published April 8th 2014 by Farrar, Straus and Giroux (BYR)
Source copy : Borrowed from Pinoy Book Tours
It takes guts to deliberately mutilate your hand while operating a blister-pack sealing machine, but all I had going for me was guts.

Sol Le Coeur is a Smudge—a night dweller in an America rigidly divided between people who wake, live, and work during the hours of darkness and those known as Rays who live and work during daylight. Impulsive, passionate, and brave, Sol deliberately injures herself in order to gain admission to a hospital, where she plans to kidnap her newborn niece—a Ray—in order to bring the baby to visit her dying grandfather. By violating the day-night curfew, Sol is committing a serious crime, and when the kidnap attempt goes awry it starts a chain of events that will put Sol in mortal danger, uncover a government conspiracy to manipulate the Smudge population, and throw her together with D'Arcy Benoît, the Ray medical apprentice who first treats her, then helps her outrun the authorities—and with whom she is fated to fall impossibly and irrevocably in love.

Set in a vivid alternate reality and peopled with complex, deeply human characters on both sides of the day-night divide, Plus One is a brilliantly imagined drama of individual liberty and civil rights—and a compelling, rapid-fire romantic adventure story.
"Wishes were stupid and pointless. They were self-inflicted injuries - open wounds that you had to tend for the rest of your life just to contain them, to keep them from festering and consuming you."
Before I start setting up a fire of words in here, let's all take a deep breath of the luscious cover of Plus One. *deep breath*
Now there are books that ultimately consumes me a lot once I saw the cover, there are several books like These Broken Stars and Halo. The concepts of their books are simple exquisite and unique and to even add more of it, the book cover is mouth watering. Also, your savings will slowly change without even knowing it. What definitely amazes me is the idea of the separate livelihood of a society, generally Night and Day.
The concept of the world was immensely mind-breaking. Elizabeth Fama brought a new life into sci-fi and dystopian novel. With the principle of a Day and Night citizen or Ray and Smudge respectively, it was infinitely amazing how it gradually brought my mind into that kind of world.
Sol as being a Smudge may seem to be a bit sad and lonely, given to the fact that her brother abandoned them together with their Poppu. From the start of Plus One, the way Sol describes her struggling life to push herself and to live with her Poppu, it highly encouraged me to grab on to Plus One.
What brings me with too much sadness is that everytime Sol thinks no one is supposed to love her romantically. The fact she already expected to live and die with her Poppu is already enough to her, that is simply remarkable and sad for me. But thank God and all the angels that are made, Elizabeth Fama created a character who molded a fictional man that is close enough to perfection. Yes, perfection is the last word.
When D'Arcy entered into Sol's roller coaster life, he's already willing to risk his life to be beside her even with no seat belts at all from that twist and turn of events. He always notices the tiny details of Sol which makes my heart flutter. What ultimately makes this character swoon-worthy is nothing but his knowledge about medicine and anatomy. There is nothing hotter than a man who knows and notices your prescriptions for your own safety. *drools* Another factor, it's D'Arcy's courage to risk all of his hardwork to become one of the promising medical apprentice in exchange of unsure yet contented life with Sol. HE IS WILLING TO LET GO OF ANYTHING JUST TO BE WITH THE GIRL HE LOVES.
The unexpected element of Plus One, the secret medical procedures that were done for the Smudges. Infant smudges. That was entirely mind-blowing. It felt like there was a giant ball that suddenly knocked me down knowing how they were all manipulated even from the starts. It is disheartening to be exact. Also, the innovation of Ciel that sparked a complete change of Night and Day division. I don't want to spoil, really. All I can say is once you've reached that very spot of realization of how the government will do anything to have it, it's infinitely great!
I know this is a lot to ask , but I demand a sequel. Seriously. Plus One is a mixture of equality and romance. It's the suitable ingredients the readers will definitely satisfy all their cravings. Be ready for Night and Day division that will enter your mind, because I'm entirely sure that you'll really want to have Ciel's mind, Sol's bravery, D'Arcy's heart and Poppu's selfless love.