ARC Review: Isla and the Happily Ever After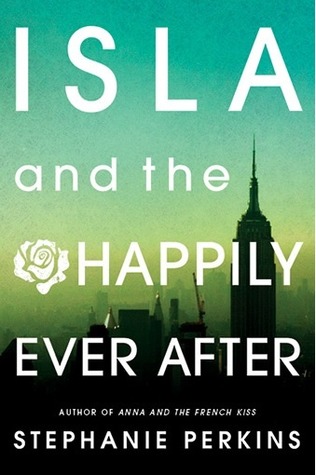 Title : Isla and the Happily Ever After
Author : Stepahine Perkins
Rating : 5 Stars!!!
Hardcover, 339 pages
Expected publication: August 14th 2014 by Dutton
Source copy: National Bookstore + Penguin *hugs*
Synopsis:
From the glittering streets of Manhattan to the moonlit rooftops of Paris, falling in love is easy for hopeless dreamer Isla and introspective artist Josh. But as they begin their senior year in France, Isla and Josh are quickly forced to confront the heartbreaking reality that happily-ever-afters aren't always forever.
Their romantic journey is skillfully intertwined with those of beloved couples Anna and Étienne and Lola and Cricket, whose paths are destined to collide in a sweeping finale certain to please fans old and new.
Is it possible that I'm worthy of being loved by someone whom I love?
Isla can be one of the most unexpected contemporary romance I've ever read. It was quick. It is tempting to read how the possibility of falling in love with a guy for more than a year leads into a wonderful, twist-and-turn relationship.
The sudden realization of love and acceptance within these two characters is a total knock out to me. Honest and bold words were written in a splendid manner.
All throughout Isla, I genuinely thought that everything will go well and fine inspite of the obstacles she will have with Josh. Because from the start, it all feels like a one of a kind chance to be with the guy she likes since freshman year. I almost touched the "Happily Ever After" part, but I was wrong. The heart of the book is something you should definitely watch for. Main reason is that Stephanie Perkins pulled out a panic cord for both characters.
It's is a genuine page-turner kind of one. I cant help myself to discover how those pages can take me to the relationship of Isla and Josh. In which I am really surprised with the way Stephanie Perkins was able to pull through the ranging emotions with a mix of a pleasurable ending.
I was so in love with the way Josh handled the relationship for Isla. He clings on to the chances and impossibilities just to be with her. And Isla, I am clearly surprised how she made her decisions in life and also with Josh.
One last thing, Ètienne's got a surprise!
Mark your calendars for Aug. 14, because, yes, theres only one place you need to be - Bookstore. Have a dose of infinite love with Isla and the Happily Ever After. It is genuinely a wonderful and heartwarming ending.
THANKS A LOT NATIONAL BOOKSTORE AND PENGUIN FOR THE ARC!!! *tight hug*