A Thousand Pieces Of You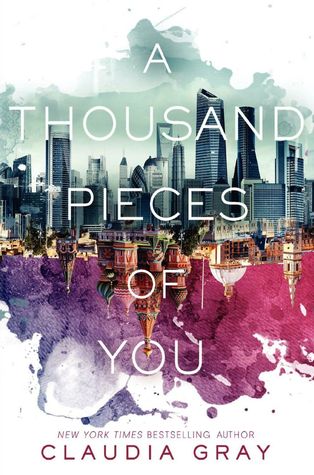 Title : A Thousand Pieces of You (Firebird #1)
Author : Claudia Gray
Rating : 5 Stars!!!

Expected publication: November 4th 2014 by Harper Teen
Every Day meets Cloud Atlas in this heart-racing, space- and time-bending, epic new trilogy from New York Times bestselling author Claudia Gray.

Marguerite Caine's physicist parents are known for their radical scientific achievements. Their most astonishing invention: the Firebird, which allows users to jump into parallel universes, some vastly altered from our own. But when Marguerite's father is murdered, the killer—her parent's handsome and enigmatic assistant Paul—escapes into another dimension before the law can touch him.

Marguerite can't let the man who destroyed her family go free, and she races after Paul through different universes, where their lives entangle in increasingly familiar ways. With each encounter she begins to question Paul's guilt—and her own heart. Soon she discovers the truth behind her father's death is more sinister than she ever could have imagined.

A Thousand Pieces of You explores a reality where we witness the countless other lives we might lead in an amazingly intricate multiverse, and ask whether, amid infinite possibilities, one love can endure.
Source : Goodreads
"And people each have their own resonance, right?"
-Marguerite
A Thousand Pieces of You is my first Claudia Gray book and I'm so much surprised how terrifyingly awesome this lady is! She got a one heck of a brain when it comes to sci-fi. I may align her with one of my favorite authors when it comes to this this genre - SJ Kincaid.

The beginning of the book brings it slowly for the readers to learn the capabilities and out of this world functionality of the Firebird. Claudia Gray was able to execute of not blowing my mind with so much terms that defines physics and parallel dimensions. I loved how she focused on the main reason of using it at first - to solve her father's murder case. Which clearly became deeper and deeper as I moved on with the story. It all felt like I am somehow wishing her father might be able to give them some traces in order to solve it.

Firebird's capability is such a promising idea for me. Anyone can move into one dimension to another, but it won't seem like you're changing the past nor the future. It feels like you're having a cross-over between living two lives. That is why I am fascinated with the character's execution each time they jumped in to another dimension. For every dimensions the characters jumped into, it's either it'll be a lot safer or less safe. The contingency of risk and chances are indeed slim. Theo and Paul needs a "reminder" in order for them to tune up their mind and body with the shifting dimensions, unlike Marguerite.

Aside from the fact that Marguerite showed full responsibility for taking actions on using the Firebird, she was clearly determined about her decisions while switching from another dimension into the other one. All I see is this brave female protagonist willing to risk all the chances just to solve on what remained as a mystery.

Somewhere along the way with the story, there was a series of flashback's when Marguerite's father was alive and his brilliant students, Paul and Theo were all very much in sync with the future innovation and capability of Firebird for the nation. Those facts simply brought me into different personalities of the characters before they became on what they fully are on the main plot. But seriously, it's when I reached the plot twist that ultimately made my heart beats faster more than it should be. Claudia Gray was able to incorporate this book is how the simplest greed of a man can became a menacing action. It was enticingly great to be exact.

Well, bottomline is, I infinitely loved the first book and I cannot wait how Claudia Gray will continue to move on with this one-of-a-kind storyline. I have a series of what-if's in me for the second book actually like, what if there are another risk on using the Firebird, something like that. But I feel that there would be much more than this. Oh, one last thing, I highly recommend this for people who loves to read time-travel books as well. You'll feel the same way about this one.