Catalyst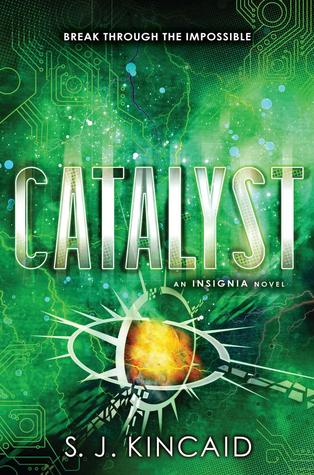 Title : Catalyst (Insignia # 3)
Author : SJ Kincaid
Rating : 8 STARS!!! *boom*

Published October 28th 2014 by Katherine Tegen Books
Synopsis :
The explosive conclusion to the series reviewers have likened to Ender's Game and "Hogwarts-in-Space"

This exhilarating, explosive, and heartrending conclusion to the Insignia trilogy brings Tom and his intelligent, passionate, and brave young friends stunning tests and dangerous confrontations and through to an impossible future they could never have predicted.

Tom Raines and his friends are eager to return to the Pentagonal Spire to continue training for the elite Intrasolar Forces, but they soon discover troubling changes: strict new regulations and the revelation that the Spire is under new military control. What begins as an irritating adjustment soon reveals a dangerous shift in reality. Those now in control are aligned with corporate sponsors and their ruthless agendas. And when the military academy begins welcoming new cadets with suspicious neural processors, the first step in a plan with horrifying worldwide ramifications, Tom is desperate to stop it, even if that means keeping secrets from his closest allies.

Then a mysterious figure, the other ghost in the machine, begins fighting against the corporations, but with methods even Tom finds shocking. And when the enemy comes for Tom, how much can Tom endure in the battle to save himself? He must decide if he can still fight when the odds of success seem to be sliding from his grip.

Source : Goodreads
"We all wish we lived in a utopia where life is fair, but it's not and it never will be and this is certainly not the way to get there. This is a revolution in slow motion and I assure you, revolutions almost always have tragic endings."
The final book of Insignia series is one of my most awaited books for this year. Ever since I started reading Insignia, I already expect that this is the exact series that my geek side has been craving for. So when SJ Kincaid posted a giveaway on her blog, I went up straight to our bed and opened my laptop. I followed the rules while wishing and crossing my fingers she'll choose me as a winner. And God, heard my growl of desperation because I WON THE GIVEAWAY, resulting me to have an early signed copy of Catalyst. And oh how the world chirped me up by that time.
Well, enough of my gibberish *fangirl* thoughts.
Catalyst, the final book of Insignia entails the continuation of Tom and his friends, Wyatt, Yuri and Vik on battling the main source of catastrophe that will envelope not only the whole world, but including the universe itself. These characters needs to choose and decide to whom they will trust, any wrong move comes with grave consequences. This is a major plot twist for me from the beginning. Seeing the protagonist, Tom being squeezed out into numerous conflicts that toppled all his entire being and solving it in the process.
I became utterly engaged in the world of the best way of thinking about the future and the rest of the most important things in life. What I am plainly pointing out is from the beginning of Catalyst, SJ Kincaid captivated me with Tom's sacrifice for his Dad, Neil. Even from Insignia, Tom already displayed such a strong foundation of protecting Neil inspite of everything that went through to both of them. And frankly, I am amazed how it was performed magnificently.
Millions of programs - 0's and 1's became more complex for all of them. Everything that may happen in a glimpse of a simulation and reality always leads into another catastrophic event and I was totally into it! SJ Kincaid played even more with Tom's character. I felt that he was this new character and yet I simultaneously feel the old Tom was still there. I am amazed the way Tom can still endure and hold the responsibility to protect his father and his friends, that thing never goes away with him. And I can say I really wanted to grab him out of the book and just let him teach me how to survive from anything else.

Catalyst wrapped me up into another futuristic stage. What really surprised me still, aside from Tom and Medusa is Lieutenant Blackburn. From the beginning of the book, I find him extremely mysterious. His persuading words can drop the hook and sink everything else. I expected that he will just remain to scrutinize Tom's actions, but I was caught off guard when Catalyst made him to be one of the characters I highly admire. His calloused heart suddenly became this concerned and an almost father figure for Tom and his friends. I was just surprised how it ended.

The thing that scared me the most in here is Joseph Vengerov's meliorism. He believes that he can control people by implanting neural-processors on them, without their consent. It was kind of disturbing to read how Vengerov was able to plan and execute it all throughout the Insignia series. But I love it, really freaking loved it. At the back of my mind, I can feel the author whispering "I planed this from the very beginning". Seriously. You'll love the crashing plot twist she had made in here.

I wasn't actually sad that the series already ended. I am supremely satisfied at the end. Sacrifice and all. Because what captured me the most with the ending is how these characters managed to analytically with or without the use of their neural-processor, is to rise and fight for what matters inspite of numerous failures that may come.