To All The Boys I've Loved Before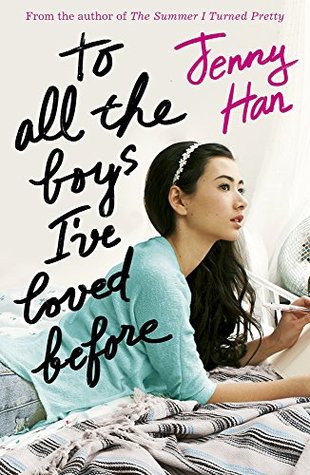 Title : To All the Boys I've Loved Before (To All the Boys I've Loved Before #1)
Author : Jenny Han
Rating : 4 Stars!!!

Published August 7th 2014 by Scholastic (first published April 15th 2014)
ISBN : 1407149075
(ISBN13: 9781407149073)
Synopsis:
Lara Jean keeps her love letters in a hatbox her mother gave her. One for every boy she's ever loved. When she writes, she can pour out her heart and soul and say all the things she would never say in real life, because her letters are for her eyes only. Until the day her secret letters are mailed, and suddenly Lara Jean's love life goes from imaginary to out of control...
Source : Goodreads
How was I supposed to know what's real and what's not. It felt like I'm the only one who doesn't know the difference.
Her heart was clutched and love somehow strayed.​ It was surprisingly bright when people thought how strange things would work .​ Lara Jean's letters are bound to stay in her hatbox and that was meant where it truly belongs, but when her younger sister send the letters to the boys she had fallen in love with, her teenage life became extremely a deep hole of complication.
I find To All The Boys I've Loved Before as a good and entertaining book for readers who wanted to touch another chance and allow themselves to look around, for their own quirky memories.​ I remember when I was in high school and one of my friend, she was found out that she had a crush on a guy from another section, it was classical.​ The cone of shame and love were mixing together in a thousand folds, it was close enough with that typical reaction of a girl.​ But what sets the book to be different among other books that I've read is the sound of innocence and truth of the characters.​ It was delicately shaped by words and thoughts that burned and consumed their hearts.
More than that, I find the book really yummy.​ Ever pages has food in it.​ Jenny Han was able to put love and food in this book - what more could I ask for?​ The attachment of the Song girls is something beyond beauty. The girls are different to show how things should be handled.​ I find it touching to be exact and their dad who was always there to support and love them unconditionally.
The two boys, Josh and Peter, I see them both fragile in some corner. They were both wicked beneath their powerful persuasiveness.​ But what sets them different is their whimsical face down through desperate characters. I am just filled with fantasies that swells me down in my heart.​
Lara Jean and Peter have this blissful yet something frightening that clings on to them. To fall in love is to risk our hearts and this book simply sets my all-time-reading-mood to feel giddy and to make sense of falling down from heights of love. To All The Boys I've Loved Before is defiantly a golden image in my heart.