Tiger Lily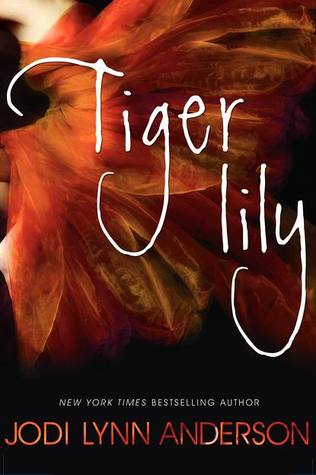 Title : Tiger Lily
Author : Jodi Lynn Anderson
Rating : 5 Stars!!!

Published September 3rd 2013 by Orchard Books (first published July 3rd 2012)
Source copy : Fullybooked
Synopsis :
In the forbidden woods of Neverland, Tiger Lily falls under the alluring Peter Pan's spell. She will risk everything - her family, her future - to be with him. But Tiger Lily soon discovers that the most dangerous enemy can live inside even the most loyal and loving heart. From the New York Times bestselling author comes a magical and bewitching story of the romance between a fearless heroine and the boy who wouldn't grow up.
Source : Goodreads
"Sometimes love means being able to bear seeing the one you love the way they are, when they're not what you hoped for them"
I stumbled into this book when I was randomly searching for another book to read. I've read a lot of great reviews about Tiger Lily. One of the common things that I saw is that they described it as a heartbreaking one. Well, I am such a masochist so I took my chance and grabbed Tiger Lily.
On this retelling of Peter Pan, Jodi Lynn Anderson effortlessly built an astounding foundation of Neverland and its characters. The characters at the start displayed the feeling of being lost, particularly Tiger Lily. She was seeing all the different things within her tribe and in Neverland but still, she feels not completely alive at all. Until she met Peter Pan. It wasn't like the same old girl-meets-boy-and-they-fall-in-love thing. Instead, it is more like they are filling up the things that seems to be empty. And to me, that is clearly the greatest feeling of being in love.
Narrated with the point of view of Tinkerbell, Neverland is such a place every reader wanted to live with. The way Tinkerbell described the whole detail of the tribe, mermaids, and pirates is utterly striking. It even felt like I was also flying with her, seeing the way she sees people and how she became adventurous when it comes to Tiger Lily.
It was fantastic to read how Tiger Lily's tribes and the pirates as well has their own manifesto. Both of them have their own set of rules to live and to survive but at the main idea of those rules is, its a matter of killing someone or being killed in order to live. Although they live in a place wherein they won't ever grow up, staying alive is truly essential to them. I liked how Jodi Lynn Anderson made this as a point of reality inside a fictional world.
Jodi Lynn Anderson knocked it away when it comes to the strong personality of a character. One thing that I noticed from the very commencement of the book is the undeniable substantial thoughts of Tiger Lily. Even Tink at first admitted it was really hard to decipher her thoughts. Her face and actions sometimes gives another meaning. I even loved it more how Tiger Lily was able to face her tribe without showing any guiltiness.

Peter Pan on the other hand, Jodi Lynn Anderson maintained the classical description of him but she twisted it with a bit of maturity. It was enticing to see the way Tiger Lily see Peter Pan as one of those wanderer living in Neverland. The connection between them just flow alongside with the complications involved inside them. He wasn't blunt even if he says anything that comes with his mind. His words were always formed with another translation that I find really tempting to know more about what is literally inside his head. I wanted to feel how he sees Tiger Lily the way he can't with Wendy. Greatest thing is that the end of the book justified all of their twisted and complicated feelings. And my heart is completely satisfied with it.
If you're planning to read Tiger Lily and you have questions in your heart and mind like...a:) Does it include a tough girl falling inevitably over a mysterious and hypnotizing guy? YES. b:)Does the girl not need to be saved? YES. c.)Did it have a happy ending? GOODNESS GRACIOUS, READ AND SEE AT THE END.

You are definitely missing a lot if you haven't read this. I am dead serious. Tiger Lily is a type of book you'll want to read while you're waiting for that train station. Your heart will easily glide with these characters and you'll just cant help to see how the end will turn out. Read it. Seriously.