Conspiracy of Us by Maggie Hall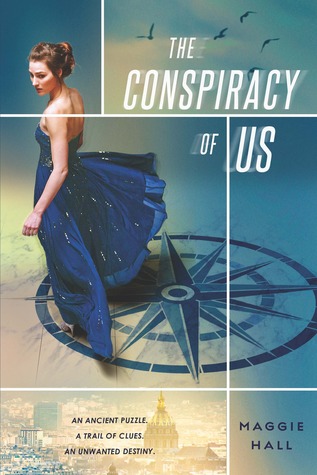 Title : Conspiracy of Us
Author : Maggie Hall
Rating : 5 Stars!!!

Published January 13th 2015 by Putnam Juvenile
ISBN : 0399166505
(ISBN13: 9780399166501)
Synopsis :
Avery West's newfound family can shut down Prada when they want to shop in peace, and can just as easily order a bombing when they want to start a war. Part of a powerful and dangerous secret society called the Circle, they believe Avery is the key to an ancient prophecy. Some want to use her as a pawn. Some want her dead.

To unravel the mystery putting her life in danger, Avery must follow a trail of clues from the monuments of Paris to the back alleys of Istanbul with two boys who work for the Circle—beautiful, volatile Stellan and mysterious, magnetic Jack. But as the clues expose a stunning conspiracy that might plunge the world into World War 3, she discovers that both boys are hiding secrets of their own. Now she will have to choose not only between freedom and family--but between the boy who might help her save the world, and the one she's falling in love with.
Source : Goodreads
"
Every second I wasn't with you, I was thinking about you. Worrying about you. It wasn't for them. It was all for you."
First thing first, the cover can manipulate the readers remaining amount of sanity
of mesmerizing it. If there's anyone who cannot indulge in this insane cover, *whispers* I don't know who you are, but I will find you.
The Conspiracy of Us started off as the typical newcomer student and a girl looking and seeing him as an interestingly mysterious type of guy. Think about it this, the people who blazed out World War I and II might be part of your family and up to this generation, their society builds up what you were seeing into right at this very minute. The Conspiracy of Us widened my idea with the way it can encompass ordinary people in a single-handed way through the powerful people that are more than just politicians or even artists.
Maggie Hall created the infamous Alexander the Great and Napoleon Bonaparte as the principal part of the mystery that came up with the One. She created two entirely different factions, the Order and the Circle. Both groups are seeking for the same purpose - to determine and unlock the One that'll give them the power to rule infinitely.
What I've noticed generally with the Conspiracy of Us is the complexity of the characters. Avery serves as the lost soul looking for the remaining parts of her father and wishing for the chances to see him, Jack as the brooding, mysterious guy who suddenly enters into Avery's life who is only prepared for what he was assigned into and Stellan who is sort of like the mind reader and devoted with the mandate and all. I was in love how these characters formed as an art in my head.
More than that, add more spice with the enigma of the tomb of Alexander the Great. Who wouldn't be shaken up to read about him? At first I was overwhelmed with the thought of the secrets behind his leadership. My mind kind of spun over since there's a lot of clues left to Jack and Avery to solve or unlock the mystery of the One and mandate.

Conspiracy of Us is encircled with secrecy and lies, you'll be surprised how much mystery and how many places your imagination will take place. It is definitely worth reading with a sure amount of thrill, allegiance, and romance. I can't hardly wait to get my hands on the sequel !!!