Extraordinary Means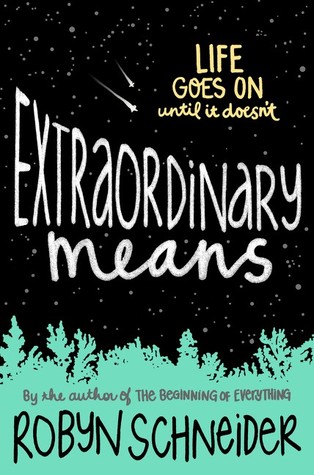 Title : Extraordinary Means
Author : Robyn Schneider
Rating : 5 Stars!!!
Paperback, International Edition, 324 pages
Published May 26th 2015 by Katherine Tegen Books
ISBN : 0062392557 (ISBN13: 9780062392558)

Synopsis :

From the author of The Beginning of Everything: two teens with a deadly disease fall in love on the brink of a cure.

At seventeen, overachieving Lane finds himself at Latham House, a sanatorium for teens suffering from an incurable strain of tuberculosis. Part hospital and part boarding school, Latham is a place of endless rules and confusing rituals, where it's easier to fail breakfast than it is to flunk French.

There, Lane encounters a girl he knew years ago. Instead of the shy loner he remembers, Sadie has transformed. At Latham, she is sarcastic, fearless, and utterly compelling. Her friends, a group of eccentric troublemakers, fascinate Lane, who has never stepped out of bounds his whole life. And as he gradually becomes one of them, Sadie shows him their secrets: how to steal internet, how to sneak into town, and how to disable the med sensors they must wear at all times.

But there are consequences to having secrets, particularly at Latham House. And as Lane and Sadie begin to fall in love and their group begins to fall sicker, their insular world threatens to come crashing down.

Told in alternating points of view, Extraordinary Means is a darkly funny story about doomed friendships, first love, and the rare miracle of second chances.

Source : Goodreads

"And the thing about trying to cheat death is that, in the end, you still lose."

How can anyone have the grit to get over and read another book without shedding a huge amount of tears remembering the last chapter that broke their hearts? I am duly in a high stake of pain after reading Extraordinary Means.

Extraordinary Means isn't just about falling in love in unlikely or romantic settings, it confounds more on taking the chances to battle with pain and death itself. Robyn created a place - a safe house for a character who were not just battling in tuberculosis, they're in the middle of a detour in their young lives without knowing the certainties of reaching the end of the road. But the thing here is that Robyn made the characters enigmatically real with their different thoughts of death.

There's always a room of doubt, anger, confusion and unexpected happiness. It is undeniably a masterpiece that could break a readers heart. Although there are books that utterly made my tear ducts opened as well like The Fault in Our Stars, Clockwork Princess, Maybe One Day and We Were Liars. Although Lane and Sadie were quite different when it comes to their insights on staying at Latham, I loved how Robyn was able to dig in these characters to fill in what they're missing a lot and realize the reality and tragedy of their illness.

Extraordinary Means made me feel like, just what Robyn says, its the second chances, those were stolen in front of me. I'm so clouded with "what if's" at the end and I feel the searing pain of Lane. Robyn made me feel how hard it was to redeem and lose someone's life uncontrollably. When I reached the end of the book, there was a cold shiver that I felt and I realized how am I supposed to move on and see these characters fall in love and feel their success in surviving the battle of their illness. I was so sad at the very core of my heart.