Recap : Katie Cotugno, Melissa Kantor, and Robyn Schneider Blogger's Forum #KMRinPH
This image brought a series of fangirl screams, tears, and excitement when National Bookstore posted it over the social media. I mean, who wouldn't even feel the outrageous excitement of seeing three YA Contemporary authors breathing the same air in our own country. Seriously.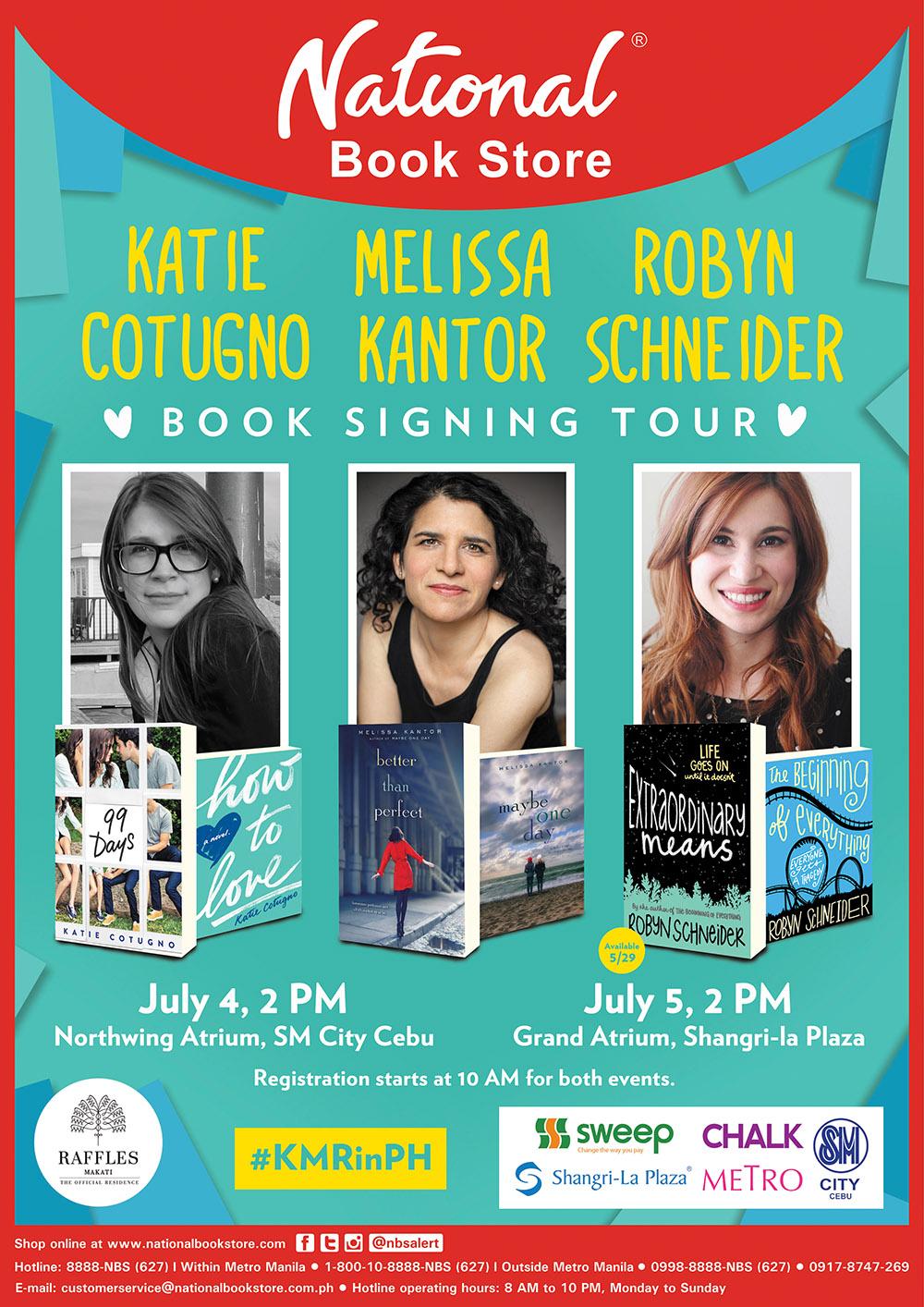 We were given the opportunity to ask several questions to them. At the entire time, it feels like we were like talking to a long-time friends who were basically fangirling over books that they have created and molded in our minds. It was truly a memorable day seeing and sharing their stories with us.
Here are the details that they shared to us:
Katie Cotugno
She would want try on writing fantasy and magical realism
She started How to Love way back when she was 16. At that time, she just wanted to write about this cute boy and this girl who watches him from a distance and slowly falls in love with each other. Because when you're a teenager, everything events and decisions feels so important or like its the biggest thing they will ever do in their lives.
What she had learned in writing How to Love and 99 Days are writing the characters who are complicated and she was afraid if people will like it or not. People are often crazy about it that characters seems like making a bad decision.
Her next book will be a Pop Star book romance set in 1990's. *enter Backstreet Boys*
Melissa Kantor
She would love to write Historical fiction. She loves to read Henry VIII and his wives and it is daunting doing research and getting into it. So she don't know yet if she can do it.
The biggest challenge was making Zoe like the things and be able to stand of what she's been through. On the original draft, she was more nastier and she had a hard time finding a way in softening her. On Olivia, it was not difficult on her to write because her father also had Leukemia so the time of Olivia's illness was also her experience and she also researched about it. Maybe One Day's biggest challenge is finding the right voice for the sweet spot of Zoe.
She has a friend who is a YA Editor and she felt like writing contemporary books would make her feel allowed to feel devastated over a puppy love. But in an adult novels, it will only look like, the characters should just simply get over it.
Robyn Schneider
People mistakes the Beginning of Everything as a dystopian novel because of its cover. But she would want to try her contemporary works with slight fantasy and horror into it
The biggest life changing moment of her is when she finished writing The Beginning of Everything. Because she stopped and put it down one day and literally threw the book away but then she crept back to it and she thought there's a version of the book that can be changed. She then do so which took her a day and the manuscript worked.
Writing contemporary books are exciting to write, like the first kiss of the characters. Everyone remembers their first kiss but the seventh, that seems to be a forgotten memory. Because there are great opportunities to find a book, song or quote to find themselves in the world.
She feels like her leading guys were very much like her. In a high school aspect she is more like Ezra while on her college life, she more likely the character of Lane.
Ezra is so much easier to write because she understood his story in a deep way. While on Lane, since she never did experience having an illness like him, she had to find a way to what he may became in the book.
I AM WITH THEM. *fangirl screams*
My signed book copies feels like they've already inked something on my soul.
Here's the bonus bookmark they gave to us and I asked for each of them to signed it. *fangirl scream again*
With the whole book bloggers community. (!!!)
THANK YOU VERY MUCH NATIONAL BOOKSTORE FOR THIS ONCE IN A LIFETIME CHANCE TO BE PART OF THIS MEMORABLE EVENT. YOU GUYS ARE THE BEST.