Promises I Made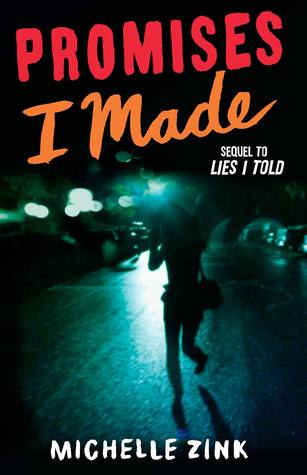 Title : Promises I Made (Lies I Told #2)
Author : Michelle Zink
Rating : 4 Stars!!!
Published November 24th 2015 by HarperTeen
ISBN : 0062327151
(ISBN13:

9780062327154

)
Synopsis :
In the thrilling sequel to Lies I Told, Grace learns that the most difficult thing about pulling off the perfect crime is living with the consequences.

Grace Fontaine was trained to carry out perfect crimes. But when a mistake was made the night her family tried to execute their biggest heist yet, her world fell apart. Now her brother is in jail, her mother has disappeared with the entire stolen fortune, and her father is determined to find a new mark, no matter the cost.

Haunted by the way she betrayed her friends—and Logan, the only boy she's ever loved—as well as the role she played in her brother's arrest, Grace decides she must return to the place every thief knows you should avoid: the scene of the crime.

Returning to Playa Hermosa as a wanted criminal is dangerous. But Grace has only one chance to make things right. To do it, she has to use everything she's been taught about the art of the con to hunt down the very people who trained her: the only family she's ever known.

Perfect for fans of Ally Carter, Cecily von Ziegesar, and Gail Carriger, this thrilling, high-stakes novel deftly explores the roles of identity and loyalty while offering a window into the world of the rich and fabulous.
Source : Goodreads
"We're all in progress, kid. The things we do are a reflection of reality at the time. We make mistakes, we learn a little, we correct as we go. You made a decisions with the information you had- the situation you had- at the time. That doesn't make you a bad person."
While Lies I Told drifted from stealing the Fairchild's gold up to Grace's treachery to Logan. The way Lies I Told ended with a hole that much needed to fill up on how Grace may be able to save and redeem Parker. It was difficult from the beginning because there was only small amount of money left for her and Cormac.
It was all about how Grace can perceive how and when to trust someone. She was all left by herself and her instinct is what only keeping her alive and with just a right amount of cash on hand. Lies I Told were also a series of flashback for Grace, from making fake ID's up until to the sources of the next target. It wasn't much at first, but its the only way she can have as her final card to redeem herself and Parker. But in the entire of the story, I still think that Grace was still afraid to trust people.
But there comes a major plot twist where Marcus came into Grace's life. I loved how Marcus was able to expand Grace's ability to look and observe the way people act and manipulate. But in face of all the conflicts that she had, I feel it is way more painful for her friend and to Logan. The kind of searing pain of seeing them with eyes full of doubts returned on her. Yet she still composed herself to explain and redeem herself to them. But if you were actually expecting the same kind of romance between Logan and Grace from Lies I Told, you won't see it in here. But even so, I still loved how these characters still saw the people they were when they have fallen in love. The possibilities of what-ifs is intimidating at some point. Because the pain Grace and her family did took a lot of effort to move on with their lives fighting fear.
Reaching the end of Promises I Made still felt like the same when Lies I Told ended, the rush and excitement. It all remained in this duology, the way how Grace was able to see people who helped her to capture Cormac. This duology is definitely a gripping one, these characters executed a conceivable act. You will see how hard it is to face the consequences of getting someone out of jail and the pain of realizing the family you once knew is nothing but a fib.