A Court of Mist and Fury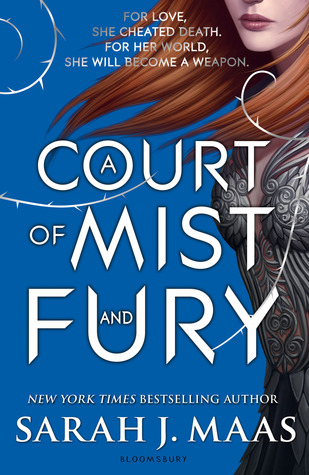 Title: A Court of Mist and Fury
Author: Sarah J. Maas
Rating : ALL THE STARS IN THE WORLD
Paperback
,
624 pages
Published May 3rd 2016 by Bloomsbury Childrens Books
ISBN : 140885788X
(ISBN13:

9781408857885

)
Synopsis:
Feyre is immortal.

After rescuing her lover Tamlin from a wicked Faerie Queen, she returns to the Spring Court possessing the powers of the High Fae. But Feyre cannot forget the terrible deeds she performed to save Tamlin's people - nor the bargain she made with Rhysand, High Lord of the feared Night Court.

As Feyre is drawn ever deeper into Rhysand's dark web of politics and passion, war is looming and an evil far greater than any queen threatens to destroy everything Feyre has fought for. She must confront her past, embrace her gifts and decide her fate.

She must surrender her heart to heal a world torn in two.
Source : Goodreads
"The things that I love have a tendency to be taken from me."
A Court of Mist and Fury embodied pain, strength, friendship, and romance. Unlike the first book which Tamlin and Feyre was on the spotlight, the sequel widened it. It is not just the characters who played a lot, but it was also the Night Court that was utterly wonderful. Even from the first book, when Rhysand said that he is the High Lord of Night Court, I imagined how it will look like. Initially, all my mind can perceive was darkness. But I never knew that a dark painted sky full of stars can be the most loveliest I can ever foresee.
The way Feyre's soul broken, it was a crazy feeling to read that kind of emotion. Sarah Maas absolutely described a choked and caged relationship. The feeling of wanting to get out but Feyre was surrounded with so much rules here and there. I can feel the air she wanted to have, the freedom she wanted and to fight for her people. Whether it is Fae and human, Feyre is open to learn her new abilities that she inherited from the High Lords that Made her new. I understand Tamlin's end from the start. After seeing a defenseless Feyre on Under the Mountain, his heart was totally devastated. I clearly know how his heart wanted to be so overprotective to her. But the kind of love that Tamlin gave choked Feyre. All the rules and restrictions to go outside is terribly not good at all. What I love here is that, Sarah J. Maas absolutely described Feyre's heart. When she was in full doubt of herself, her abilities to fight and from getting persistent to Tamlin. The feelings she had are crystal clear for her readers to feel that kind of pain.
When Rhysand rescued her from their wedding, I was honestly delighted that he came. Because I felt Feyre's fear to be tied for the rest of her life and never using the power that she deserves. It brought joy when I saw Rhysand and pain when I saw Tamlin. Deeply sad seeing Tamlin's eyes fall so hard on a deep pit. My emotions got mixed up from that point.

Looking into Rhysand's court, I was refreshed to see and feel the calmness of the Night Court. From the long tables, hallways, stairs and chambers, I loved every detail of it. If I could have a shot be at that place, I will sincerely enjoy solitude all throughout my stay. As Rhysand gradually introduce Mor, Cassian, Azriel and Amren, I felt like I am a new member of a family. The thing that sets unique on A Court Of Mist and Fury is that the characters are full of mystery to look at. Their past is astonishing to read. It's like putting the pieces together to form a new bond. I insanely loved that kind of friendship that Sarah J. Maas created to all of them. The scenery of Velaris is something that I will always get back into reading this book again and again. Sarah J. Maas created a fae world full of perfection and clarity. I simply got hypnotized just reading it.

Most importantly, as Feyre adapts and accepts her fate, Rhysand was having his own battle. I know that majority of all us enjoyed how Feyre and Rhysand's emotions are fighting. The love and hate they have shared is extraordinary and addicting. But mostly addicting to be honest. HAHA! Both of them have their own reasons and priorities to settle but I loved how they've come up to resolve it. Their thirsty hearts that clashed is magical. The bond that they have with each other felt more like a tag team. Battling together as one to win.

But of course, sacrifices were made and I was taken aback how the events almost turned upside down. Unlike the first book, this one absolutely created a triple amount of destruction. This book is full of surprises and my heart is deeply contented with it. Because I know that the next book will gave me more than I will ever forecast with the incoming events. A Court Of Mist and Fury brought out a full blast of fire. This book deserves all the time that I have and I will say this once, I am on Team Rhysand. Yes, I switched to another OTP. HAHA!


I WANT TO SEND A HUGE AMOUNT OF HUGS AND THANK YOU's TO SARAH J. MAAS FOR WRITING THIS GRIPPING AND NERVE CRACKING BOOK.