Author Event Recap : Jennifer Niven in PH #AllTheBrightPlaces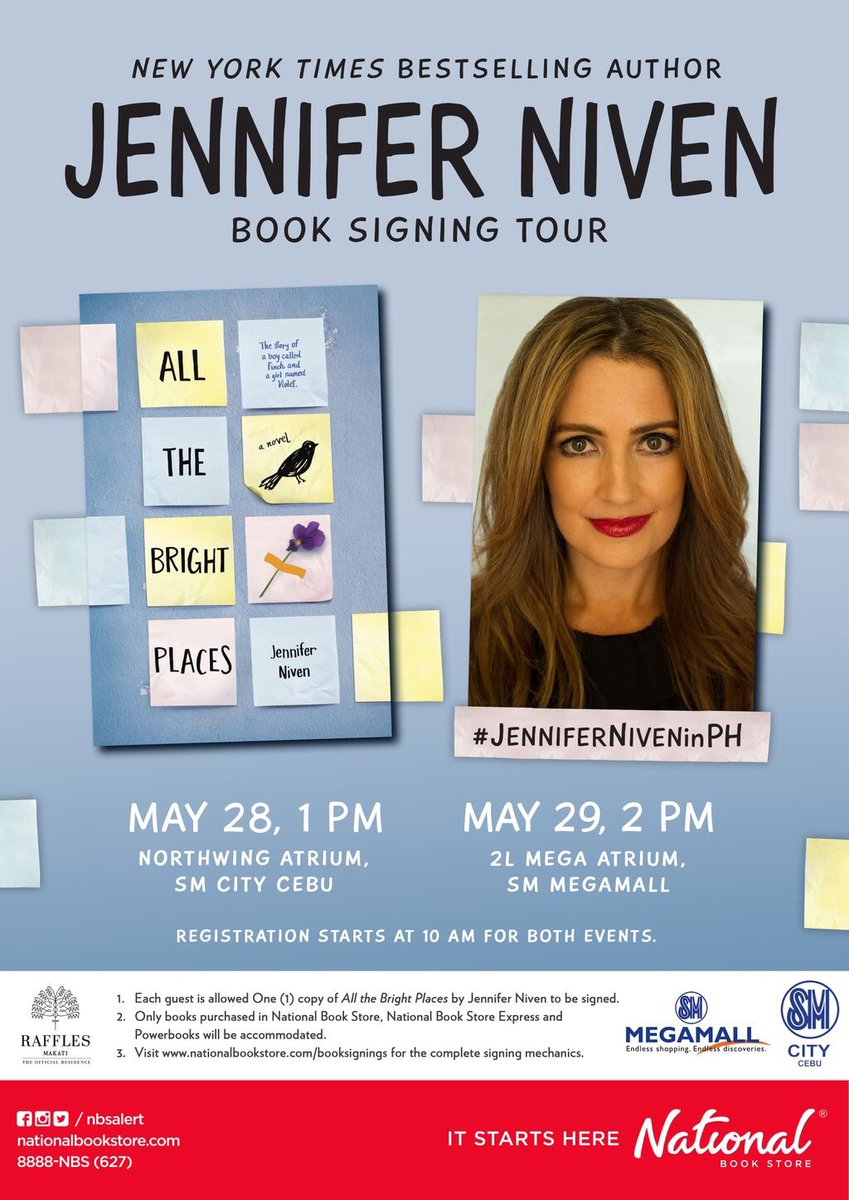 Last week brought a lot of smiles to Filipino YA readers. National Bookstore invited Jennifer Niven, author of All the Bright Places to visit Philippines. She particularly visited Cebu and Manila. Even from the start of her flight, she has been so open to all her followers in Twitter and Instagram. Filipinos were so excited to see her up-close.
Fortunately, we had a Blogger's Forum that gave us the opportunity to ask questions to her. We asked a set of questions that proves how Jennifer Niven infinitely loves her books and her readers.
Q :
If ever to write a sequel to All the Bright Places, what do you think is in store for Violet and Finch?
J.N :
I think Violet wonders New York and she ends up in NYU. She wonders the world after she graduates and writes a book about Finch. Everytime people asks about Violet it pretty much says about myself too.
Q :
If given the chance to change the ending of All the Bright Places would you? Why or Why not?
J.N :
I would love to change it and make it a happiest story. But I actually thought it when I was writing it, and when I think about it I wanted to write a personal and real story.
Q :
In your opinion, was there any things to change that could have done to change their fate?
J.N :
I think his parents could've been pay attention. His classmates could've been accepting and less judgemental. I think Finch could've been responsible to reach out and ask for help.
Q :
What are the difficulties in researching mental depression for All the Bright Places.
J.N :
It is knowing Finch and seen up close and deal with the world to make sense with him. Writing YA feels a responsibility to be accurate as possible for YA readers. I consulted people about their issues.
Q :
What can readers expect on your new book Holding Up the Universe?
J.N :
Holding Up The Universe is about 5 boxes of tissues instead of All the Bright Places that was about 10 boxes. It is hard to get into new voices because I lived in Finch and Violet. It is about learning your place in the world and see other for who truly they are.
Q :
How different is the transition of YA to nonfiction?
J.N :
I started writing nonfiction and moved into YA. When my literary agent died unexpectedly, it turned everything upside down on me. The last word my agent said 'Whatever you want to write next, I want you to write it because you can't imagine writing anything else'. In honor of him, I kept back on writing YA.
Q :
What is the progress of All the Bright Places movie?
J.N
: The movie will start filming in fall. Viewers will probably get to see Finch at the end of summer.
Q :
What do you do on writing break?
J.N :
I play with my friends and family. I take dance class. I also like to travel and read so much. And many of you know I binge-watch Supernatural. It felt like an escape and recharges me.
Q :
Mental illness is considered as a taboo. How do you feel to speak about Finch and Violet's story?
J.N :
I wanted to write it because it is something I went through. I lost my Finch in real life and I thought I wasn't allowed to talk about it and it felt really uncomfortable. As a result, I kept it. I wrote it because I really wanted to talk about it.
Q :
What is your writing process of All the Bright Places and Holding Up the Universe?
J.N :
It was really challenging at first. I make playlist for the book and characters, I play instrumental music typically but on Holding Up the Universe, I listened to all kinds of music. One thing that is fun on writing is that I keep on surprising myself.
The atmosphere at that time was so emotional. We can feel how Jennifer pour her heart out to her readers. After that she signed our copies, she also gave Chapter Sampler to her new book, Holding Up the Universe.
I definitely feel so lucky to have met her. Thank you so much National Bookstore and Jennifer Niven!